US Civil War Veterans of the Dunlop/Dunlap Name
Herein lie the legacy of Brave Dunlops, Warriors all, who fought in The US/Confederate Civil War. Read about our brave namesakes charging up Mission Ridge carrying their flag, fighting on the CSS Virginia (Merrimac) and the USS Minnesota in the first battle of ironclads, losing their life at Gettysburg and facing each other at the Battle of Atlanta; Read the Roster of Confederate Soldiers and find your relative:

where the ground is hallowed by their blood,
and their actions upon it!
"Merito!"
Updated February 2009
American Civil War
From the Virginia Military Institute archives comes a story of brother vs brother, a Dunlap tragedy repeated many times during these years: 2 letters, 1864, regarding members of the Dunlap family of Jennings Gap, Augusta Co., Virginia. May 20th, 1864, Confederate soldier Robert B. Dunlap to his mother Margaret Dunlap, written from camp near Spotsylvania Courthouse; describes aftermath of battle, seeing battlefield covered with dead and wounded. July 13, 1864, Adam Dunlap, a Union loyalist, to his brother Robert, from Warnsburg, Missouri; discusses murder of their brother Jim (also a Union loyalist) by a member of his own unit; encourages Robert to "change your way of thinking."
the Dunlap Family :The Dunlap family lived in Augusta County, Virginia. Before the Civil War, William H. Dunlap served as a miller's apprentice and Samuel A. Dunlap worked as a day laborer. During the war, William enlisted in the Confederate military. He survived the war and remained in Augusta where he set up his own household and worked as a blacksmith. Samuel also enlisted in the military, as a substitute for George M. Eggleston in the 14th Virginia Cavalry. During the war, he suffered several injuries, but survived the surrender and was paroled after the war. After the war, Samuel lived on a farm with Margaret, probably his mother.

Union
Brigadier General John Dunlap Stevenson soldier, born in Staunton, Virginia, 8 June, 1821. He spent two years in the College of South Carolina, was graduated in law at Staunton in 1841, and in 1842 began practice in Franklin county, Missouri. He organized a volunteer company in 1846, and served in General Stephen W. Kearny's invasion of New Mexico. After his return he removed to St. Louis, was frequently a member of the legislature, president for one term of the state senate, and in 1861 was an earnest supporter of the Union. In that year he raised the 7th Missouri regiment, and during the siege of Corinth commanded the district of Savannah. He then led a brigade in Tennessee, was made brigadier-general of volunteers, 29 November, 1862, served in the Vicksburg campaign, and made a charge at Champion Hill that broke the enemy's left flank. He led a successful expedition to drive the Confederates from northern Louisiana, commanded the district of Corinth, and then occupied and fortified Decatur, Alabama On 8 August, 1864, being left without a command, he resigned; but he was re-commissioned and given the district of Harper's Ferry. During the reconstruction period he was in charge of northern Georgia. At the close of the war he was made brevet major-general of volunteers, and in 1867, for his services at Champion Hill, brevetted brigadier-general in the regular army, in which he had been commissioned a colonel on 28 July, 1866. He left the army in 1871, and has practiced law in St. Louis.
The Brevet Union Generals of the US Civil War included three more of our own:
Brigadier General Henry Clay Dunlap Col., Third Regiment, Kentucky Volunteers. In November 1863 ,Henry served in the Chattanooga-Ringgold Campaign at Chickamauga Creek Mission Ridge, where he gallantly led the Third Kentucky in a charge up the ridge, carrying the Union flag, under heavy fire, until the Ridge was captured. (US Military Archives, War of the Rebellion, 1890). Col., 3rd Regt. Kentucky Volunteer Infantry
Brevet Brig. Gen. U.S.V. March 13 1865
Brigadier General James Dunlap Capt., US Volunteers, Quartermaster Dept.Brevet Brig. Gen. U.S.V. March 13 1865
Brigadier General Dixon, William Dunlop Lt. Col., 6th Regt. Reserves Pennsylvania Volunteer Infantry Brevet Brig. Gen. U.S.V. March 13 1865
(A brevet rank was an honorary promotion given to an officer (or occasionally, an enlisted man) in recognition of gallant conduct or other meritorious service. They served much the same purpose that medals play today (our modern system of medals did not exist at the time of the Civil War).
Dunlap, Cyrus Pvt 54th Massachusetts sworn in at Reedville, Ma May 13, 1863 medical discharge on 4th June 1865. enlisted at the age of 25 after being laborer in Pittsburgh, Pa. Cyrus fought at Olustee, Honey Hill and at Fort Wagner. The 54th Mass was immortalized by the movie Glory.
James H Dunlap Mr. Dunlap served a year in the war of the Rebellion, enlisting in September 1861 in Company G, Forty-sixth Indiana Infantry. He participated in the engagements at New Madrid, Island No. 10, Fort Pillow and St. Charles. After receiving an honorable discharge he returned to his home. In 1867 he located on his present farm on section 5, Tippecanoe Township, where he has a pleasant home, and fifty acres of choice land.
William Thomas Dunlap son of James Dunlap and Mary (Henry) Reid, was born in Allegheny county, Pennsylvania, June 18, 1842. He was quite young when the family came to West Newton, where he was educated in the public schools. He became an expert in coke manufacture, and for several years was manager for the Laughlin Coke Company, later for Reid Brothers at Dunbar, Pennsylvania. In politics he was a Republican, but never held public office; was a man of quiet tastes and loyal to his family and friends. He died in 1887. He served during the entire period of the civil war, enlisting August 15, 1861, in Company H, Forty-fourth Regiment Pennsylvania Volunteer Cavalry, under Captain Bayard and Colonel Bayard. After his three years of service expired he re-enlisted and served until the surrender at Appomattox. He saw hard, continuous service with his regiment, engaging in the following battles: Drainsville, Falmouth, Harrisburg, Cross Keys, Cedar Mountain, Thoroughfare Gap, Fredericksburg, Leedstown, Sheppardstown, Brandy Station, Upperville, Gettysburg, Muddy Run and Culpeper. He was taken prisoner and for three months confined in Libby Prison and four months on Belle Isle before being exchanged. He received an honorable discharge and returned to his home.
He married, in 1870, Josephine Stauffer, born in Connellsville, daughter of Martin B. and Charlotte (Hough) Stauffer, granddaughter of Abraham and Elizabeth (Myers) Stauffer, great-granddaughter of Jacob Stauffer, who with his son Abraham came from Germany to the United States, locating at Scottdale, Pennsylvania, where he bought land from the Indians and lived until his death see William Dunlap
Confederate
Lt Colonel William Dunlap Simpson, lawyer of Laurens, S.C. Oct 1823- Dec
26 1890. Served during the Civil War with the 14th South Carolina Infantry Regiment in Gregg's/McGowan's Brigade at 2nd Bull Run (where he assumed command), Antietam, Fredericksburg and Chancellorsville. He resigned his commission in 1863 to serve in the Confederate Congress (1863-1865). In 1876, he was S.C. lieutenant governor from 1876-1878 and, in 1878, was acting governor until he became chief justice of the state Supreme Court from 1880 until his death. Owner of a plantation in Laurens, SC, he married Jane E. Young, daughter of Henry Clinton Young (b. 1794), lawyer of Laurens, S.C., and Lucy Melissa Young (1802-1874). William and Jane's children included William Dunlap, Jr., and Ernest, both lawyers, and John W., who was a banker in Spartanburg S.C., Greensboro, N.C., and Tennessee.
Major William Simpson Dunlop, commanded the sharpshooter battalion which was formed from, and served with, the fine old South Carolina brigade which had been commanded first by Gregg and then by Samuel McGowan. Each of the five regiments in the brigade--1st, 12th, 13th, and 14th Infantry and Orr's Rifles—contributed about three dozen men to the new battalion. "Captain William S. Dunlop of the 12th South Carolina Infantry Regiment permanently revitalized the Battalion in 1864. The battalion continued to serve the Army of Northern Virginia until Captain Dunlop was wounded and captured at Amelia's Courthouse during the retreat from Richmond in April 1865. The remainder of the sharpshooters found their own way to Appomattox, many were present for the surrender; others defied surrender and silently withdrew to their homes" see 3rd South Carolina. Dunlop sought such qualities as "intelligence, sound judgment . . . marksmanship . . . unfaltering courage." The manual on rifle practice published by Cadmus Wilcox in the 1850's was used to train the men. The manual was a standard in its field. Author of the book " Lee's Sharpshooters" in 1889 detailing the experiences of the brigade from Spotsylvania through Appomattox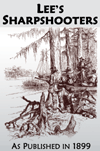 Courthouse. As a reader progresses through Dunlop's account of the 1864 operations, there dawns an awareness of the increasing competence of the sharpshooters. Already seasoned by years of war, the men became skilled and confident skirmishers. At the onset of the war's last winter the sharpshooters were short of comforts and supplies, so they calmly headed out one dark night and routed a well-stocked enemy to capture what they needed . They had become Lee's shock troops, situated where Dunlop's subtitle put them: "At the Forefront of Battle."
Veteran of Wilderness, Spotsylvania Courthouse, Hanover Junction. Petersburg, Longbridge, Fussell's Mill, Ream's station, Hatcher's Run, Southerland Station.
-
Captain Bryant Green Dunlap. (Assistant Quartermaster) of the 26th Regiment of North Carolina Troops known as the "Chatham Independent Guards." Captain Dunlap was born in 1833 in Chatham County, N. C. He graduated from the Pennsylvania Medical College. At the outbreak of the war he was a physician in Moore County, N. C. but returned to his native county to enlist into the Chatham Independent Guards, which would become Co. E of the 26th Regiment of North Carolina. On May 28th, 1861 he was appointed as regimental Quartermaster and transferred to the Field and Staff of the regiment. His tenure in this position was short-lived as he was unable to post a bond. Due to the fact that quartermasters were held accountable for government property in their care, a financial bond was required. Dunlap was unable to comply with this requirement and resigned on February 11th, 1862.
He subsequently served as a Private in Co. E (The Vance Troop) of the 5th Regiment N. C. Calvary (63rd NCT). On October 29th, 1862 he was appointed as Hospital Steward for the 5th Cavalry and transferred to the Field and Staff of that regiment. While serving in one of the field hospitals he helped treat the wounds of Col. John R. Lane of the 26th and other members of his old troop after the battle of Gettysburg. In June of 1865 he was reported as a paroled prisoner in Richmond, Va.; likely serving in one of the military hospitals in that city after its April evacuation. Dunlap resumed his medical practice in Moore County after the war; however a wartime injury caused his early death in 1867. He is buried in the Short Family Cemetery in Moore County, North Carolina.
Dunlap, Thomas Franklin. 4th Corporal, Co. E, 3rd Tennessee, 48th Tennessee. Present at Battle of Fort Donelson (Feb. 1862); captured and imprisoned at Camp Douglas, Chicago. Escaped from prison of war camp at Ft. Douglas on June 7, 1862. (Note: The 48th Infantry men were part of a significant breakout during the war on 23 July 1862.) Rejoined regiment after exchange Tippah Ford, Nov. 1862. Present at bombardment of Port Hudson. (May 21-July 9, 1863) . Present at siege of Jackson, Mississippi (May 1863). Present at battle of Chickamauga (Sept. 19) . Present at battle of Missionary Ridge. (Don't miss the above link for an outstanding history of Thomas compiled by his gggrandaughter, Julia Ashley-Ed.)
-John Matthew Dunlap. 1836-1863. Killed at the battle of Gettysburg, Pa. on July 3rd, 1863.
-John Nelson Dunlap. 1845-1942. John was a scout for the famous "Morgan's Raiders" who raided as far North as New Castle , Pa. He also was a member of the Confederate Navy , in the Mississippi Squadron.
-Charles H. Dunlap. 1839-1904. A member of Thurmond's Rangers, a second sergeant. He later served as a 3rd Lieutenant in Lowery's battery in Centreville and Greenville in June of 1861 attached to the 13th Battalion of Light Artillery. This unit was disbanded at Christiansburg just after Lee's Surrender April 1865.
- David Crockett Dunlap Pvt. (David) Crockett Dunlap, who was an original member of the 1st Texas Volunteer Infantry Regiment, Company M - Sumter Light Infantry. The company was organized at Trinity County Texas, and was mustered into Confederate Service at Sumter, Texas on 5 May 1862 under Captain Howard Ballenger. Crockett was wounded at Gettysburg on 2 July 1863, and again on 19 September 1863 at Chickamauga. After the second wound, his leg had to be amputated, and he was discharged from military service for disability. It is said that he was in ill health for the rest of his life. He and his wife Mary McNeil had at least one son, George Clinton Dunlap, and eight grandchildren. (Military information from "Hood's Texas Brigade: A Compendium", 1977 by Col. Harold B. Simpson, Hill Junior College Press. ISBN #912172-22-3 Library of Congress #77-91396.)
Crockett's father John C. Dunlop came from Tennessee around 1834 to fight in the War for Texas Independence. He served in the Texas Volunteer Militia, 2nd Regiment, 2nd Brigade, under Capt. B.P. Hardin. (According to an acquaintance in the Sons of the Republic of Texas, the Texas Militia later became the Texas Rangers.) As a result of his service, he was given a land grant by the newly formed Republic of Texas in Trinity county, and settled there with his wife Georgia to start their family. All seven of John's children were born as Dunlap's in either the Republic of or the State of Texas. (submitted by Clan Dunlop Texas Commissioner David Dunlap)
-G.R. Dunlap Private, Company D of the 8th Alabama...otherwise known as the "Emerald Guard", comprised of Irish-born and carrying a green flag with Harp and shamrocks. This unit saw action at Manassas and seven other major battles.
John DUNLOP Born in England in 1833.
He was related to a major Petersburg tobacco family and enlisted there on April 25 1861 as a private in Co. C, 12th Virginia Infantry. He was apparently known as 'English John' because of his accent. On May 28 1862 he was commissioned 2nd Lieutenant and became ADC to General Lewis Armistead, who commended him in his report on the Seven Days for being ''especially much exposed in carrying orders". Dunlop resigned on February 7 1863. After the war he was a lawyer and served as counsel to Louis Ginter, a famous Richmond tobacconist. He died in 1901.
Source: www.americancivilwar.org.uk
1st Lt John Dunlop, Aide to General Armistead June, 1862, to February 7, 1863.: In a dispatch to HQ July 14. 1862 Armistead writes: "My staff officers - Captain J.W.Pegram, assistant adjutant-general; Lieutenant J.D.Darden, aide-de-camp; Lieutenant W.L.Randolph, ordnance officer, and my volunteer aides, Lieutenant John Dunlop and the Rev.J.E. Joyner, chaplain of the Fifty-seventh Virginia - did all that men could do and did it well. Lieutenant Dunlop was especially much exposed in carrying orders."

Dunlop, James E. - Lieut. Colonel. Georgia 2nd Calvary This regiment was organized in February 1862 at Albany, Georgia and was made up from men from Randolph, Dougherty, Clayton, Marion, Fulton, and Decatur counties. It was mustered into Confederate service for 3 years of the war on 7 MAY 1862. Company G served as an escort to Major General Benjamin F. Cheetham from 14 SEP 1862 to 26 APR 1965. The regiment was surrendered with 18 men by General Johnston in North Carolina on 26 APR 1865.

Captain John R. Dunlap 36th Virginia Infantry (Originally known 5/13/1861 as 2nd Kanawa Inf. Regiment...7/8/1861 accepted into Confederate State Service and on July 15, 1861 as the 36th Virginia.). Company I (2nd) was John Dunlap's Company. Organized and enlisted on August5, 1861 for one year. Accepted into Service on Sept. 20, 1861. Transferred out of the Regiment. Assigned as Company B, 23rd Virginia Battalion Infantry on January 15, 1862. from Steve Teeft's 36th Virginia Site
Confederate Listing of Clan Dunlop In Progress:
another three hundred ninety-six Dunlaps, fifty-five Dunlops, ten DeLaps, two Delaups, one Delapp, one Dunlup and one Dunlapp who fought for the Confederacy.
Source: Roster of Confederate Soldiers, 1861-1865, Broadfoot Publishing Company, 1996, from the National Archives, Volume IV pages 482,483;and Volume V pages 186,187,188,189.
Delap, Harrison Mississippi 28th Calvary Company B
Delap, Henry Texas Infantry 3rd St Troops Company F
Delap, Hugh General and Staff Hospital steward
Delap, J. North Carolina 15th Infantry Company D
Delap, John North Carolina 49th Infantry Company B
Delap, Joseph F. North Carolina 5th Calvary (63rd St. Troops) Co. K
Delap, Joseph F. North Carolina 48th Infantry Co H 2nd Lt.
Delap, Samuel North Carolina 2nd Bn. Company G
Delap, V. North Carolina 15th Infantry Company D
Delap, V. North Carolina 49th Infantry Company B
Delapp, Robert North Carolina 48th Infantry Company K
Delaup, A. Louisiana Mil. Orleans Guards Regiment, Company G,B
Delaup, Ernest Louisiana 30th Infantry Company C, Sergeant
Dunlap, A. Arkansas 4th St.Inf. Surgery
Dunlap, A. Virginia Cav. Hounshells Bn. A.Adj
Dunlap, Aaron J. Virginia 31rst Mil. Co.G
Dunlap, Abram B. Missouri Cav. Hunter's regiment
Dunlap, A.J. Alabama 9th Inf. Co. C
Dunlap, Alexander Alabama 11th Inf Co. H
Dunlap, Alexander M. North Carolina 26th Infantry Company H, 1rst Sgt.
Dunlap, Alphus Florida 4th Infantry Surgery
Dunlap, Andrew J. Alabama 8th calvary Company H Sergeant
Dunlap, Andrew J. Missouri Infantry 3rd Battalion Company C
Dunlap, Andrew J. Missouri 6th Infantry Company B
Dunlap, Andrew J. Texas 5th Infantry Co. C
Dunlap, A.S. South Carolina 12th Infantry Company C
Dunlap, Barton Virginia 31rst Mil. Company G First sergeant
Dunlap, B.F. Arkansas 10th Mil. Co. H Cpl.
Dunlap, B.F. Arkansas 26th Infantry, Co. H
Dunlap, B.G General and Staff Hospital steward
Dunlap, Bryan G. North Carolina 5th Calvary (63rd St Troops) Co E. Hospital steward
Dunlap, Bryan G. North Carolina 26th Infantry Co E. 2nd Lt.
Dunlap, C. Texas 1st Infantry, Company M
Dunlap, Caldwell Missouri Light Artillery Landis' Co.
Dunlap, Charles H. Virginia Calvary Thurmond's Co. Sgt.
Dunlap, Charles H. Virginia Artillery Wise Legion Jr 1st Lt.
Dunlap, Charles S. Kentucky 4th Cav Co. A
Dunlap, C.J. South Carolina 2nd Inf, Co. E
Dunlap, C.S. Kentucky 1st (Helm's) Cav. New Co. G
Dunlap, Curran South Carolina Lt Arty. 3rd (Palmetto) Bn, Co.A,H,I
Dunlap, Curran South Carolina 1st (McCreary's)Inf. Co.L.
Dunlap, C.W. North Carolina 1st Jr. Res. Co. I
Dunlap, D. South Carolina 6th Res. Co.C Cpl.
Dunlap, D.A. South Carolina 4th Cav. Co.C
Dunlap, D.A. South Carolina 22nd Inf. Co K.
Dunlap, Daniel M. North Carolina 26th Inf. Co. K.
Dunlap, David Arkansas Cav. Harrell's Bn. Co. D
Dunlap, David Arkansas 27th Inf. Co.D
Dunlap, David B. South Carolina 1st (Orr's) Rifles Co.K
Dunlap, David C. Georgia Inf. 26th Bn. Co. B 2nd Sgt
Dunlap, David E. Alabama 44th Inf. Co. G
Dunlap, David H. Mississippi 8th Inf.Co.D Sgt.
Dunlap, David R. Alabama 3rd Inf Co.K Adj.
Dunlap, David R. North Carolina 2nd Bn.Loc Def Troops Co. F
Dunlap, David R. Tenn. 13th Cav.Co.H
Dunlap, David S. Georgia Cav Nelson's Ind. Co. Sgt.
Dunlap, D.C. South Carolina 6th Inf.1st Co.G
Dunlap, D.C.B. Alabama 49th Inf.Co.F, 1st Lt
Dunlap, D.C.B. Exch Bn.Co.E, CSA 2nd Lt.
Dunlap, D.E. South Carolina 6th Inf.2nd Co. F
Dunlap, D.J. Georgia 2nd Cav. (St Guards) Co.F
Dunlap, D.M. Georgia 23rd Inf.Co.I
Dunlap, D.R. Tenn. 13th Inf, Co.H
Dunlap, D.T. Georgia 38th Inf.
Dunlap, E. Tenn.15th (Cons)Cav.Co.F
Dunlap, E.B. SC 2nd Inf.Co.E
Dunlap, E.C. SC 4th Cav.Co.C
Dunlap, E.C. SC 1st (Orr's) Rifles Co.F
Dunlap, E.D. TN Inf. 154th Sr.Regt. Co. F
Dunlap, E.H. MS 18th Cav. Co.H
Dunlap, Eli D. SC 9th Inf. Co.A
Dunlap, E.M. AR 1st (Monroe's)Cav.Co.B
Dunlap, E.M. KY 12th Cav.Co.G
Dunlap, Enoch B. MO Cav. William's Reg. Co. C
Dunlap, Ephraim Mo Cav. Hunter's Reg. Co.F
Dunlap, Ezekiel Al 62nd Inf.Co.A
Dunlap, F.B. AL 7th Inf. Co.G Asst Surg.
Dunlap, F.B. 3rd Conf. Cav. Co.G
Dunlap, F.E. TN 20th (Russel's) Cav. Co E
Dunlap, Ferdinand, J VA 33rd Inf.Co D. 1st Lt
Dunlap, F. L. MS 6th Cav.Co. C Cpl
Dunlap, F.L. MO Lt Arty. 3rd Battery
Dunlap, F.M. AR 10th Mil Co.H
Dunlap, F.M. AR 26th Inf. Co.H
Dunlap, Francis GA 41rst Inf. Co. I
Dunlap, Francis, TN 9th Inf. Co.C
Dunlap, Francis J.B. AL 4th Inf.Co F 1st Sgt.
Dunlap, F.W. SC 9th Inf. Co. E
Dunlap, George MO Cav. Snider's Bn.Co.C
Dunlap, George MO Cav. Snider's Bn Co.E
Dunlap, George NC Cav. 14th Bn Co. C,K
Dunlap, George NC 7th SR Res. Watt's Co.
Dunlap, George B. VA 10th Cav Co.A
Dunlap, George B. NC 14th Inf.Co.C
Dunlap, George H. Jr. AL 3rd Inf. Co.K 1st Lt.
Dunlap, George M. MS 23rd Inf. Co.I
Dunlap, George T. NC 43rd Inf. Co.I
Dunlap, George W. MO Cav. Jackman's Reg.
Dunlap, G.M. MS 31st Inf. Co.K
Dunlap, G.R. AL 8th Inf. Co.D
Dunlap, G.W. AR 27th Inf. Co.D
Dunlap, G.W. TX 32nd Cav. Co.C Far.
Many more Dunlap's (h-w) to come
Dunlapp, J.A. Alabama 10th Inf. Co. K
Dunlop, A. Arkansas 17th (Griffith's) Infantry Surgery
Dunlop, A. General and Staff Surgery
Dunlop, Alphous General and Staff Surgery
Dunlop, Bryant G General and Staff Capt, AQM
Dunlop, Colin Texas 6th Infantry Company C
Dunlop, Donald M. Virginia 12th Infantry Company C
Dunlop, D.R. General and Staff 1st Lt Adj.
Dunlop, Edward Conf. Inf. Tucker's Regiment. Co G.
Dunlop, F.B. Gen and Staff Asst Surgeon
Dunlop, F.G. Missouri 3rd Infantry Company K
Dunlop, George Georgia Infantry (Baldwin's) Moore's Company
Dunlop, H. Texas 5th Calvary Company K,
Dunlop, Henry, Tennessee Calvary 17th Bn (Sander's) Company A
Dunlop, Isaac L. Arkansas 9th Infantry Company D Colonel
Dunlop, James South Carolina Light artillery 3rd (Palmetto) Bn Company I
Dunlop, James Louisiana Mil. British Guard Bn Coburn's Company
Dunlop, James Jr. Virginia 12th Infantry Co.B, E
Dunlop, James E. Georgia 2nd Calvary Company K, Captain
Dunlop, James E. Gen and Staff Chaplain
Dunlop, Jeptha Georgia 35th Infantry, Company E
Dunlop, J.J. Gen and Staff 1st Lt, Adjutant
Dunlop, J.N. Virginia 3rd Infantry Loc.Def. Company A
Dunlop, John Texas 18th Calvary Company H Bvt.2nd Lt
Dunlop, John Texas Calvary Morgan's regiment Company D Bvt.2nd Lt.
Dunlop, John Virginia 12th Infantry Company C,E
Dunlop, John Gen and Staff 1st Lt, ADC
Dunlop, John M. Virginia 5th Calvary (12 mo.'61-2)Company D
Dunlop, John M. Virginia 13th Calvary Company B
Dunlop, Joseph, Maryland 1st Calvary Company A
Dunlop, Joseph J. Arkansas 5th Infantry Company C, Adj
Dunlop, Joseph J. Arkansas 9th Infantry Adj
Dunlop, J.E. Mississippi Burt's Ind.Company (Dixie Guards)
Dunlop, J.S. Mississippi 17th Infantry Company F
Dunlop, J.T. Virginia 7th Calvary, Company G
Dunlop, Martin Virginia 5th Infantry Company C
Dunlop, Nathaniel H. North Carolina 22nd Infantry Company F
Dunlop, R. Virginia 3rd infantry Loc.Def. !st Company G
Dunlop, R.B. Virginia 19th Calvary
Dunlop, R.C. South Carolina 9th Res. Company K
Dunlop, Rich S. Gen and Staff asst Surgery
Dunlop, Robert Louisiana 13th Infantry Company I
Dunlop, Robert S. South Carolina 8th Infantry Asst surgery
Dunlop, Rufus Gen and Staff AA Surgery
Dunlop, Rufus J. Arkansas 5th Infantry Company C Ord Sgt
Dunlop, R.W. Tennessee 51st (cons)Infantry Company K
Dunlop, S.O. Maryland Artillery Ist Battery
Dunlop, T. Texas Calvary Border's Regiment Company H Cpl
Dunlop, Thomas Alabama 51st (Part. Rangers) Company A
Dunlop, Thomas Alabama 2nd Infantry Company A Cpl.
Dunlop, Thomas N. South Carolina 1st Clavary Company H Cpl
Dunlop, William Louisiana 12th Infantry Company H
Dunlop, William North Carolina 64th Infantry Company I
Dunlop, William B. South Carolina 5th Infantry 1st Company H
Dunlop, William H. Alabama 34th Infantry Company C
Dunlop, William S. South Carolina 12th Infantry Company B Captain
Dunlup, R.W. Alabama 4th (Russell's )Calvary Company D
More to Come
Below is the story of how the Yankee Charles Dunlap on the USS Minnesota fought against the Rebel John Dunlap on the CSS Virginia in the famous battle of the Monitor vs the Merrimac from actual military archives
EACHDRAIDH DUNLOP
FOOTSTEPS OF OUR CLAN
How the Dunlops had roles in one of the most famous battles in Naval History:
The USS Monitor vs. the CSS Virginia (Merrimack
)

The CSS Virginia
By Mike Dunlap, Clan Historian
Engagement of the Steam Sloop Iron plated CSS Virginia of ten guns; the Patrick Henry, of 6 guns, the Jamestown, of two guns; the Raleigh, the Beaufort, and the Teaser, all of one gun each…against the frigates USS Cumberland, of 24 guns; the Congress, of 50 guns; the St Lawrence, of 50 guns; and the steam frigates USS Minnesota and USS Roanoke , each of 40 guns.
From the Official Records, Union and Confederate Navies, Series 1, Volume 7. Washington DC 1898.
Report of Captain Von Brunt, US Navy, Commanding the USS Minnesota, March 8-10, 1862. to the Honorable Gideon Welles, Secretary of the Navy, USA:
Sir: On Saturday, the 8th instant, at 12:45 p.m., three small steamers were discovered rounding Sewell's Point (near Hampton Roads, Virginia), and as soon as they came into full broadside view I was convinced that one was the iron-plated steam battery Merrimack, from the large size of her smoke pipe. They were heading for Newport News, and I, in obedience to a signal from the senior officer present, Captain J. Marston, immediately called all hands, slipped my cables, and got underway for that point to engage her. While rapidly passing Sewell's Point the rebels there opened fire on us from a rifle battery, one shot from which going through and crippling my mainmast. I returned the fire with my broadside guns and forecastle pivot. We ran without further difficulty within about one and a half miles of Newport News, and there, unfortunately, grounded. The tide was running ebb, and although in the channel, there was not sufficient water for this ship, which draws 23 feet. I knew that the bottom was soft and lumpy, and endeavored to force the ship over, but found it was impossible to do so.
At this time it was reported to me that the Merrimack had passed the frigate Congress and run into (rammed) the sloop of war Cumberland, and in fifteen minutes after I saw the latter going down by the head (sinking). The Merrimack then hauled off, taking a position, and about 2:30 pm engaged the Congress, throwing shot and shell into her with terrific effect, while the shot from the Congress glanced from her iron-plated sloping sides without any apparent damage. At 3:30 pm the Congress was compelled to haul down her colors. Of the extent of her loss and injury you will be informed from the official report.
At 4 pm the Merrimack, Jamestown, and Patrick Henry bore down upon my vessel. Very fortunately the iron battery drew too much water to come within a mile of us. She took a position on my starboard bow, but did not fire with accuracy, and only one shot passed through the ship's bow. The other two steamers took their position on my port bow and stern, and their fire did the most damage in killing and wounding men, inasmuch as they fired with rifled guns; but with the heavy gun that I could bring to bear on them I drove them off, one of them apparently in a crippled condition. I fired on the Merrimack with my pivot 10-inch gun without apparent effect, and at 7pm she too hauled off and all three vessels steamed toward Norfolk.
The tremendous firing of my broadside guns had crowded me father upon the mud bank, into which the ship seemed to have made for herself a cradle. From 10 p.m. , when the tide commenced to run flood until 4 am, I had all hands at work with steam tugs and hawsers, endeavoring to haul the ship off of the bank, but without avail, and, as the tide had then fallen considerably, I suspended operations at that time. At 2 am the iron battery USS Monitor, Commander John Worden, which had arrived the previous evening from Hampton Roads, cane alongside and reported for duty, and then all on board felt that we had a friend that would stand by us in our hour of trial.
At 6 am the rebels again appeared, and I beat the men to quarters. The Merrimack ran down and turned into the channel through which I had come last night. When she approached within a mile I opened upon her with my stern guns and made signal to the Monitor to engage the enemy. She immediately ran down my wake, right into range of the Merrimack, completely covering my ship as far as possible with her smallish dimensions, and much to my astonishment, laid herself right alongside the Merrimack, and the contrast was that of a pigmy to a giant. Gun after gun was fired by the Monitor, which was returned with whole broadsides from the Merrimack with no more effect, apparently, than so many pebble stones thrown by a child. After a while they commenced maneuvering , would shoot by the rebels and rake her from the stern. In the meantime the rebels were pouring broadside after broadside, but almost all her shot flew over the little submerged propeller. When they struck the bomb-proof tower the shot glanced off without producing any effect, clearly establishing the fact that wooden vessels can not contend successfully with ironclad ones; for never before was anything like it dreamed of by the greatest enthusiast in maritime warfare! After the Merrimack determined that she could not damage the Monitor, she returned her attention to the Minnesota. We opened upon her with a broadside and a 10-inch pivot gun that would have blown out of the water any timber ship in the world. She returned my fire with her rifled bow gun with a shell that passed through the chief engineer's stateroom, amidships, and burst in the boatswains room, tearing all four rooms into one with its passage, exploding two charges of powder, which set the ship on fire. Her second shot went through the boiler of the tug USS Dragon, destroying it totally. This time I concentrated upon her an incessant fire from my gun deck, spar deck, and forecastle pivot guns, and was informed by my marine officer, who was stationed on the poop deck, that at least fifty solid shot struck the Merrimack on her slanting ironclad side without any apparent effect.
By the time she had fired her third shell the Monitor had come down upon her, and placed herself between us and the Merrimack, forcing the Merrimack to maneuver and run aground. We then poured into her all the guns that could be brought to bear . She did get off and withdrew down the bay, with the Monitor in hot pursuit, when she turned around and ran full speed into the Monitor. For some time they fired into the tower and pilot house of the Monitor, until she turned and headed for Fort Munroe. The Merrimack and two of her steamers again turned toward us , but decided that we were finished, and headed for Craney island instead . (Serving aboard the USS Minnesota was Charles Dunlap, seaman, mortally wounded when the first shell from the Merrimack passed through the Engineer's stateroom and ignited the powder stores.)
Report excerpt of S.R. Mallory, Secretary of the Navy of the Confederate States, to Jefferson Davis, President, CSA:
Sir, I have the honor to lay before you the official report of the naval engagement between the James River squadron, under the command of Flag-Officer Franklin Buchanan, Captain of the CSS Virginia (Merrimack), and the Enemy's fleet at Hampton Roads on the 8th instant. The engagement commenced at 3:30 pm and at 6 pm he had sunk the Cumberland, captured and burned the Congress, disabled and driven the Minnesota ashore, and defeated the St Lawrence and Roanoke, who sought shelter under the guns of Fortress Monroe. Two of the enemy's small steamers were blown up and two transports were captured. Damage to the CSS Virginia was minimal. The conduct of the officers and men of the squadron in this contest reflects unfading honor upon themselves and upon the Navy. It will be remembered that the Virginia was a novelty in naval architecture, wholly unlike any ship that ever floated; that her heaviest guns were equally a novelty; that her motive power and her obedience to her helm were untried; and her officers and crew strangers to her and each other; and yet, under all these disadvantages, the dashing courage and consummate professional ability of Flag-Officer Buchanan and his associates achieved the most remarkable victory which naval annals record!
(Serving aboard the CSS Virginia, from Nov. 1861 till May 1862 was John Dunlap, seaman, who survived this battle and the war.)
The footsteps of our Clan tread across the deck of the first ironclad vessel in Naval History. "Merito!"